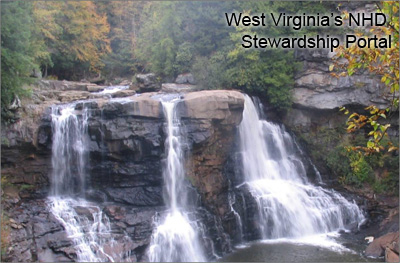 NHD Data for West Virginia
The National Hydrography Dataset (NHD) is a comprehensive digital spatial dataset, designed and distributed by USGS, that maps and describes the nation's surface water features, including streams, rivers, lakes, swamps, and constructed waterways. The NHD is currently complete at two different spatial scales for West Virginia: Medium resolution (1:100,000 scale) and High resolution (1:24,000 scale, to correspond with USGS topographic maps). Local Resolution data (1:4,800 scale) exists for West Virginia and some of that data has been implemented into the NHD model but is not yet publically available. Further development of LR-NHD has been halted. For more information, see the Business Plan, linked below.
NHD Stewardship
Many NHD users have partnered together to develop an NHD Stewardship Program for West Virginia. Though the program is in it's infancy, the partners have generated a great deal of content and discussion. The development of this program is being guided by the USGS' own NHD stewardship program. "A Business Plan for the National Hydrographic Dataset in West Virginia" (see below) contains a draft NHD stewardship plan as well as technical reports on the development of NHD data in West Virginia.
Documents
This section contains a timeline of documents (the most recent documents are listed first) created as the NHD SDtewardship Program for West Virginia is developed. Users interested in older documents tracking the LR-NHD project should click here or scroll to the bottom of this page. These documents are (mostly) in .pdf format and you will need Adobe Acrobat Reader to view them. Download it here.